Brief Facts about Tanzania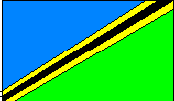 Tanzania is situated just south of the equator on the eastern coast of Africa and it is the largest country in Eastern Africa. it is blessed with vast natural resources, including wildlife and mining and has an agrarian economy. together these constitute the main source of the country's foreign currency earnings.
Tanganyika attained independence from Britain in 1961 and in 1964 joined with Zanzibar to form the United Republic of Tanzania. In 1966 it became a one party state and in 1992 it had a peaceful transition to multiparty democracy. Tanzania has an enormous wealth of wildlife and has became a favored destination for tourists worldwide. one of the most endangered mammal species in the world, the Black Rhino, and one of the most exotic species, the Maasai Giraffe are both found in Tanzania. The Maasai Giraffe is the symbol of this country.
A Tourist Guide To Tanzania's Parks
| | |
| --- | --- |
| Tourist Destinations | Tourist destinations in Tanzania have been divided into the following zones:- the Northern Zone, the Southern Zone, the Coast and the Spice Islands. There are also many other places to visit which aren't included in the above mentioned zones. |
| | Parks included in this Zone are:- Arusha National Park, Tarangire National Park, Lake Manyara National Park, Mount Kilimanjaro, Ngorongoro conservation area which includes Olduvai Gorge and the Great Serengeti national Park. |
| The Southern Zone | In this Zone the following Parks and Game reserves are included: Selous Game reserve, Mikumi National Park, Ruaha National Park & Udzungwa Mountains National Park. |
| The Coastal Zone | This Coastal Region includes:- the City of Dar-es-salaam, the town of Bagamoyo and the Island of Mafia. |
| The Spice Islands | This includes the two exotic islands, namely Unguja & Pemba. This two Islands are together known as Zanzibar. |
| | Included in this category are:- Gombe National Park, Katavi National Park, Mahale Mountains National Park, Rubondo Island National Park, Lake Victoria & Lake Tanganyika. |
Thumbnail map of Tanzanian Parks
If you have any questions or comments give us your feedback